Tamron SP 90mm F/2.8 Macro 1:1 VC USD review.
Thank you for Nordic Digital for providing the lens for testing purposes.
Lizard. ISO 200, 1/640s, F/7.1
Tamron 90mm 1:1 Macro F/2.8 VC USD is the latest addition of macro lens selection of Tamron. SP stands for Super Performance, the recent 24-70/2.8 VC USD and the 70-200/2.8 VC USD are from the same series and this can easily be told considering the high build quality of all these lenses deliver. The Tamron 90mm Macro lens features new ring-type focus (USD) and vibration control (VC) compared with its predecessor Tamron 90mm F/2.8 Macro 1:1 Di. Let's take a look what the lens is capable for and what are the performance impressions shooting under different circumstances.

Technical information (ISO, shutter speed, aperture) is written below each image (VC is off unless stated otherwise).
Tinkler. ISO 400, 1/320s, F/4.5
The lens is full frame one - 36x24mm - so you can easily use it with both with your FX (full frame) or DX (aps-c size DSLR) camera. I picked Canon 60D this time (18mpix APS-C) to see how well the lens renders the image to the (relatively) small pixels of the Canon's excellent DX DSLR camera (the pixels are, for example more than 2x smaller physically, than the ones at Canon 5D Mark II (21mpix at 36x24mm sensor).
Fishing net. ISO 100, 1/160s, F/3.2 (The pink/red area at the background is actually another fishing net - so considering this you can evaluate the bokeh).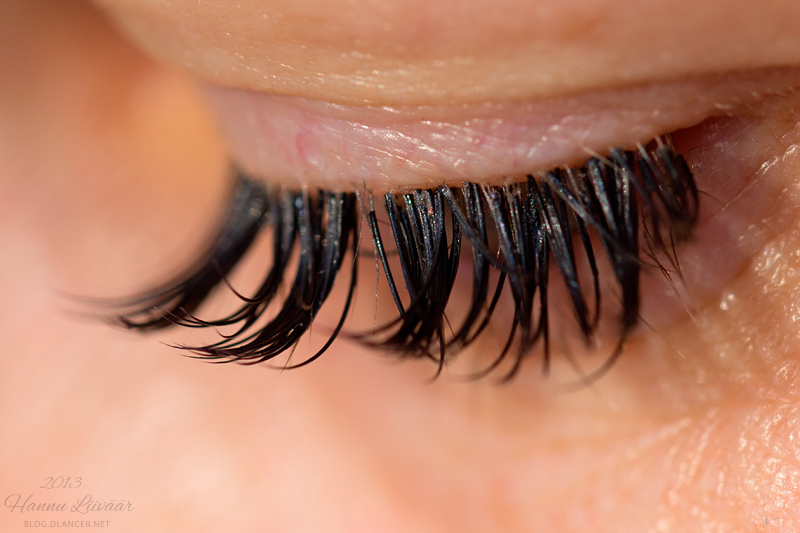 Eyelash. ISO 200, 1/400s, F/5.0
The housing of the lens is plastic, the build quality feels solid, the rubber-coated focusing ring feels smooth and comfortable with excellent grip to fingers. No zoom ring this time as the focal length is fixed. The unit feels lightweight with the weight measuring 550g (1.2lb) only. Bayonet mount is metallic so no cheap solution here.